SPORTS ACHIEVEMENTS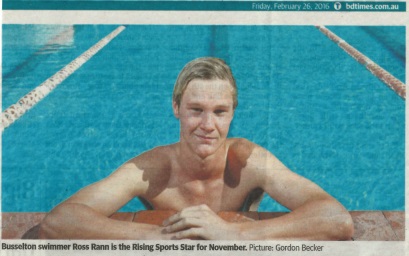 November Rising Star award for swimmer
Year 11 student Ross Rann was awarded the Busselton Freight Services Rising Star Award for November, after winning a silver medal in the 100m backstroke at the State Championships in January.
With this performance Ross has also qualified for the GHF Australian Age Championships in Adelaide at the end of March. This will be the second year in a row he will compete in this national event.
Ross was Year 11 Champion Boy in the College's recent Inter House Swimming Carnival, breaking the Year 11 College records for the 100 freestyle, 50m backstroke and 50 breaststroke.