Remote Learning
In response to the unprecedented circumstances brought about by the COVID-19 pandemic,St Mary MacKillop College has developed a remote learning strategy to ensure your child continues to receive the best possible education. Through our strong ICT network and established systems, we have the opportunity to utilise online tools for communication and educational delivery.
By following our remote learning plan for the relevant Year level, your child will have access to subject content and teacher instructions every day.
Years 7-10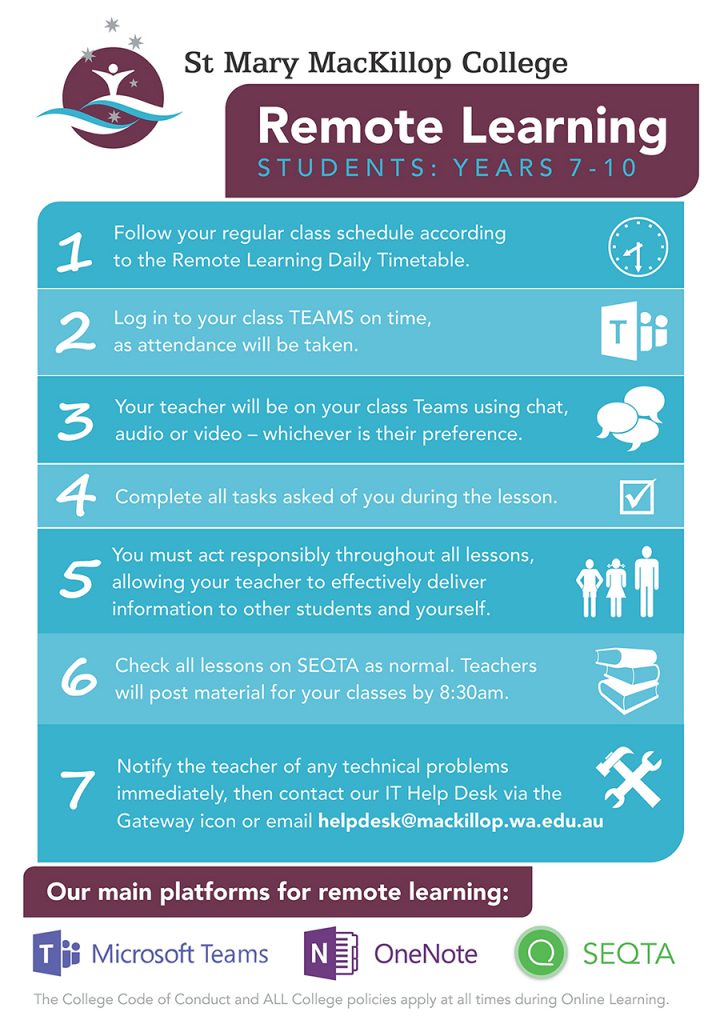 Years 7-10 Timetable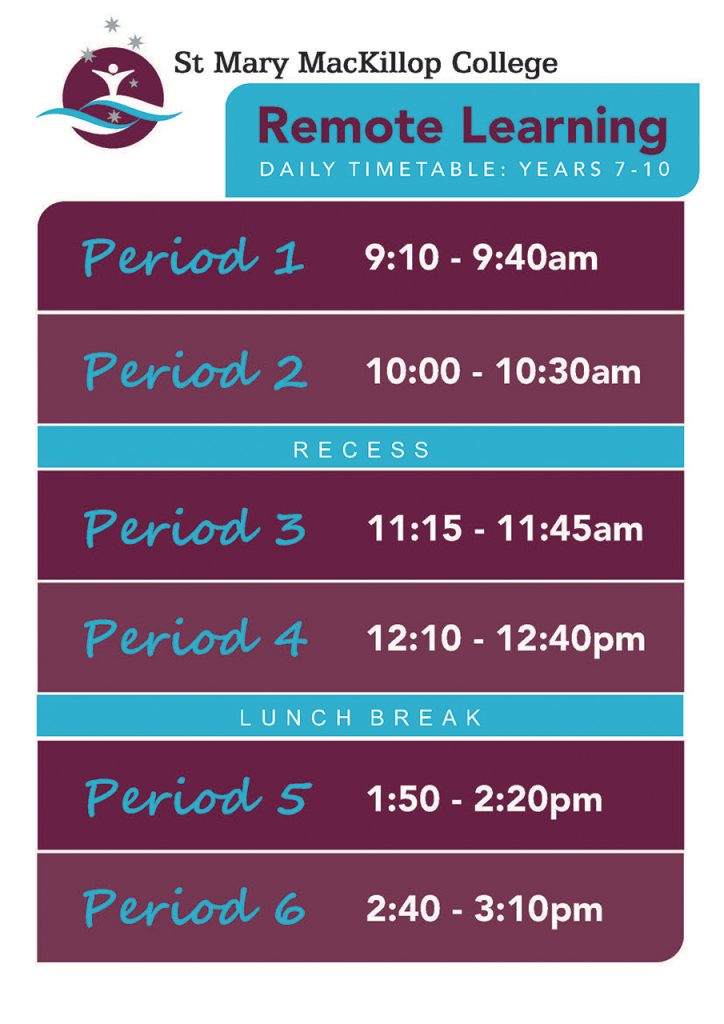 Years 5 & 6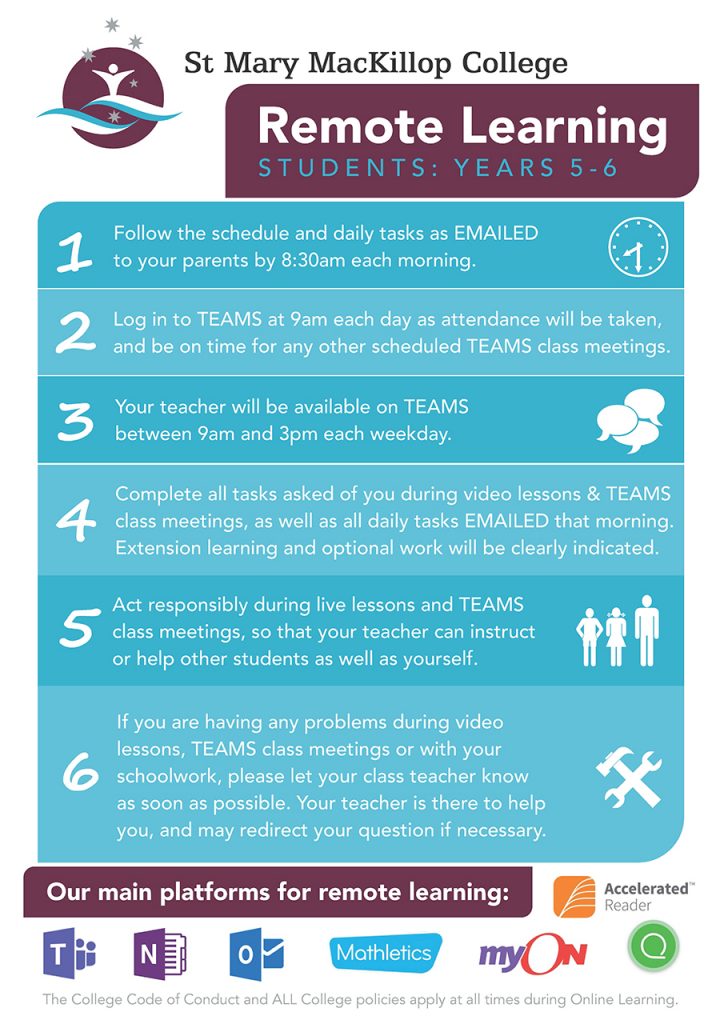 Years 1-4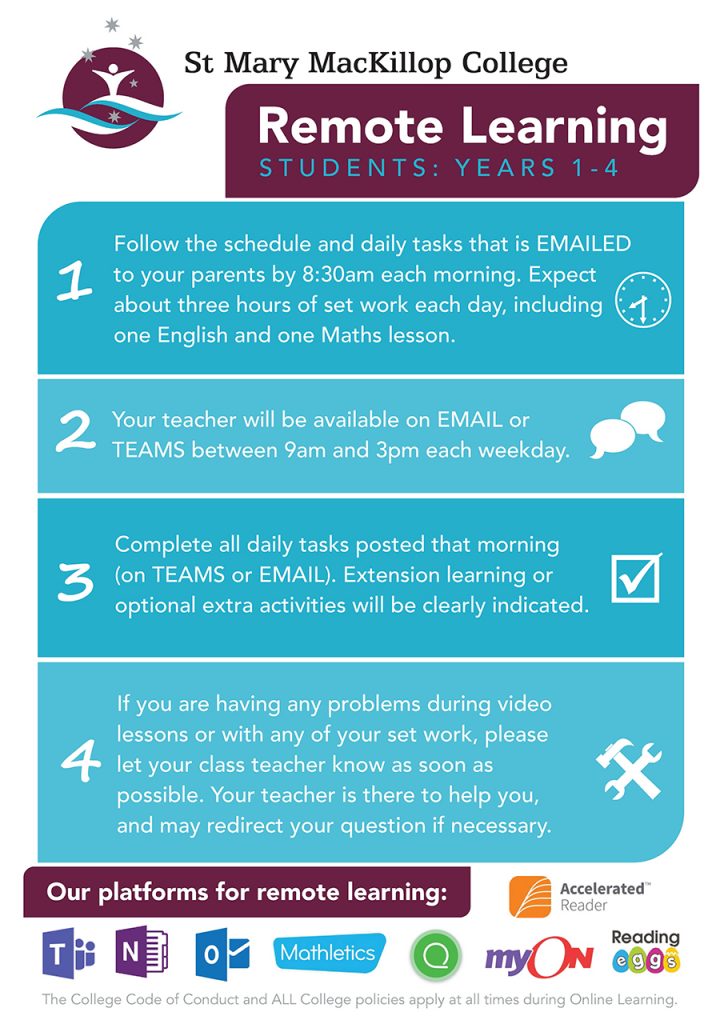 Kindy & Pre Primary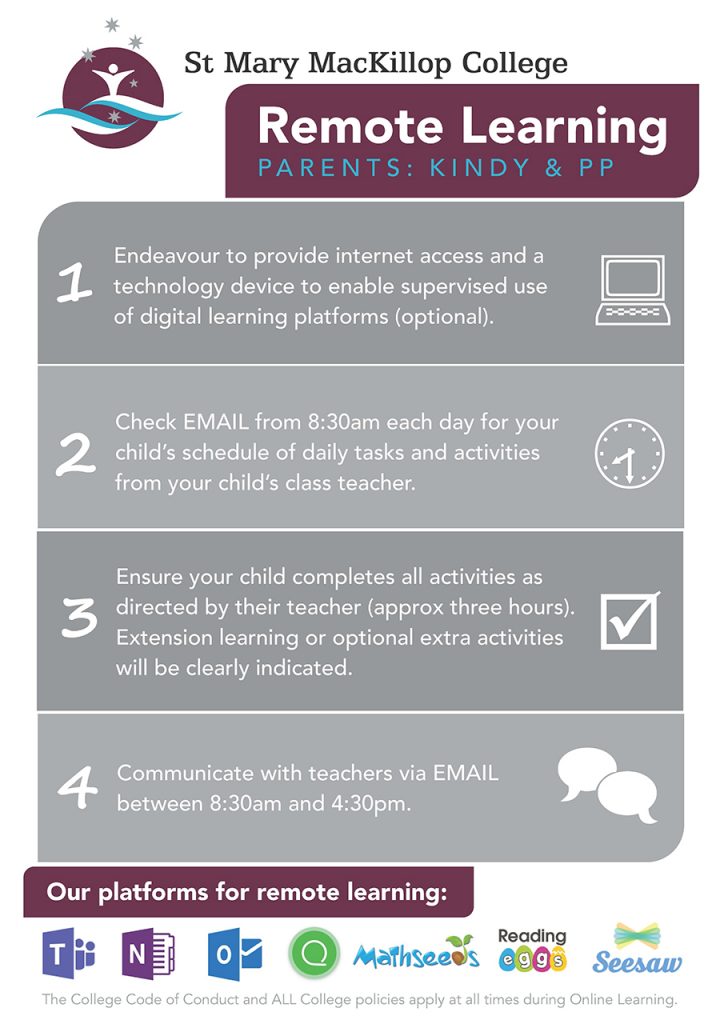 REMOTE LEARNING FAQs
How do I view my child's Remote Learning Program?
Most Primary students will have their daily program EMAILED to parents by 8:30am each day. Year 5 and 6 teachers will post a daily program via TEAMS.
Parents of Secondary students can access their child's program for each subject by logging into SEQTA Engage and going through Courses listed in the left menu. Material for each class will be available by 8:30am on the day of their lesson.
Will my child still complete regular assessments?
Primary teachers will provide feedback on your child's work.
Secondary teachers may set Home Assignments or Tasks to complete. Any assessments set by teachers will be designed to purely provide feedback for your child on their learning progress.
How will my child know if their teacher is unable to deliver Remote Learning?
Primary students will be notified of any changes or cancellations in their daily program, emailed to parents. Secondary students will receive a Direct Message from their class teacher or head of School.
What if we are having problems with Remote Learning?
If your child is experiencing technical difficulties, contact the College's IT Helpdesk, by emailing helpdesk@mackillop.wa.edu.au
If your child is experiencing difficulties logging into SEQTA, please send an email to Julie.Silke@cewa.edu.au
If your child is having any other problems with Remote Learning, they should Email or Direct Message their class teacher.
When can I contact my child's teacher?
Teachers can be contacted between the hours of 8:00am to 4:30pm Monday-Friday.
How do I contact the College for other enquiries?
Contact the College on (08) 9752 7400 or email admin@mackillop.wa.edu.au, and your enquiry will be directed as required.
Where can I access the latest College updates about COVID-19?
www.mackillop.wa.edu.au/covid-19/