Hospitality News: Cafe, cheesecake and cacao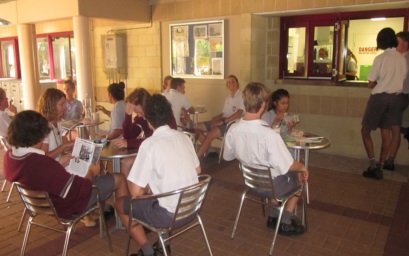 Our new MacKillop Café, open twice a week and run by Year 12 Hospitality students, has been a hit with Year 12 students and staff. Regular patrons have taken to our new loyalty cards (buy 8 get 2 free), and the delicious chocolate cake and chocolate chip cookies have also been popular.
Year 11 Hospitality students have started their VET course with practical tasks involving techniques such as food denaturation, coagulation and gelatinisation. They produced some delicious and tempting cheesecakes, which we are sure didn't last very long at all.
The focus in Year 9 Food has been nutrients and their functions in our body. Students are currently working on creating their own nutritious snack using 'superfoods' such as kale, cacao and berries. They enjoyed making and eating a nutritious smoothie bowl recently, as well as a delicious Tandoori Chicken Salad.