St Mary MacKillop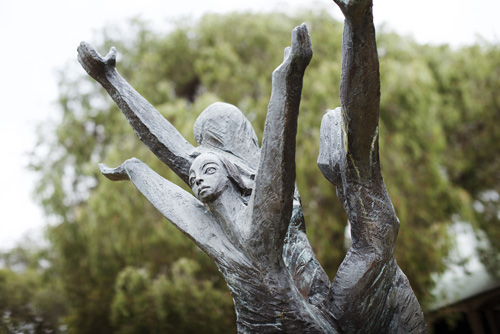 Mary MacKillop was born in 1842 in Fitzroy, Melbourne. Her commitment to education began at the age of 18, when she began work as a governess in Penola, South Australia. Inspired by a meeting with Fr Julian Tenison-Woods, she took her religious vows at the age of 24 and the name 'Mary of the Cross', founding the Sisters of St Joseph of the Sacred Heart with a vision of providing education and assistance to remote communities. Within just five years, Mary had established over 30 schools across South Australia with a congregation of over a hundred Sisters of St Joseph.
Conscious of the plight of remote communities, Mary MacKillop pioneered a new form of religious life in Australia and commenced a system of Josephite schools that would provide education especially for children of the poor and isolated. Mary and her sisters played a significant role in Catholic education in Australia. At her death in 1909, the Sisters of St Joseph numbered over 300, with 112 Josephite schools formed across Australia and New Zealand, and over 12,000 students enrolled.
Now, after nearly 150 years, with so many Australians having been educated or cared for by the Sisters of St Joseph, the work started by Mary MacKillop has had an enormous impact. Mary was noted for her courage in the face of obstacles, and her trust in the providence of God. She was declared a Saint by Pope Benedict XVI on the 17 October 2010, and her feast day is celebrated on 8 August.