Events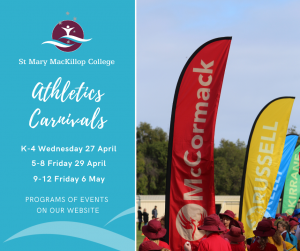 Athletics Carnivals
Term Two 2022
Kindy-Year 4 Athletics Carnival
POSTPONED DUE TO WEATHER.
Years 5-8 Athletics Carnival
Friday 29 April, 9:00am - 2:30pm
Download program of events
Years 9-12 Athletics Carnival
Friday 6 May, 9:00am - 2:30pm
Program of events coming soon.
We are pleased to inform parents that, in line with the current health advice, the Government is easing some COVID restrictions for schools for the start of Term 2 that enable us to  resume inter-House and interschool sporting competitions:
Both indoor and outdoor sporting events will be allowed to resume.
Parents are allowed to spectate at indoor and outdoor sporting events including interhouse and interschool events.
Mask wearing and physical distancing measures remain in place.
Parents and caregivers are invited to attend as spectators, however our traditional fundraising events such as the Student Council sausage sizzle and P&F cake stall will not take place in an effort to minimise any high-exposure settings.