Testimonials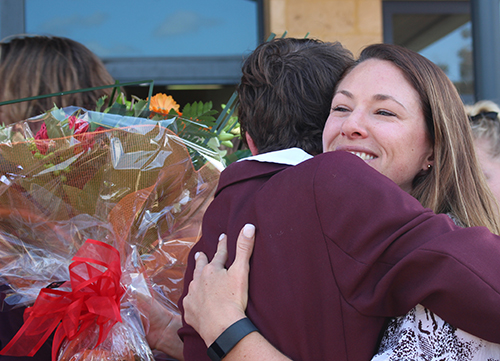 Our two children have both spent their entire school life in the very capable hands of staff and administrators at St Joseph's Primary School and MacKillop Catholic College. Ella and Sam have both recently graduated from MacKillop and are now on path to higher education at UWA. Ella and Sam have benefitted greatly from the dedication and commitment of their teachers, reaching all the way back to Kindy/pre-primary at St Josephs to the fantastic group of teachers at MacKillop in their secondary years. We have always found the staff at both schools to be extremely supportive of all students, with a genuine care and interest in our children whether it be towards their academic or non-school pursuits. This quality of teaching and support is surely a product of the positive culture that has been developed by staff and school leaders over many years. We are sure that the joining of these two schools will only serve to improve the quality of education on offer and further enhance the reputation of St Mary MacKillop College as one of the best in the region.
Al and Donna Guthridge
Parents of College graduates Class of 2013 and Class of 2015
---
Choose life, choose opportunity, have a go and believe in yourself - these are things I learned in my time at MacKillop Catholic College. In my career I have encountered a lot of adversity: ageism, sexism, ego and political agendas. But I believed in myself and I wanted to make a difference. In the end I chose a happier, healthier life for me: one that is exciting, scary and motivating! Much of that decision comes from me knowing who I am and what I want, which I learned from my teachers at MacKillop. I like to remind myself that I am always a student - after school you learn from life. What I gained in my time at MacKillop has helped me to learn from events that have occurred long after I graduated, and continue to learn as my future unfolds.
I really loved my time at MacKillop, and have such nice memories. I even miss it sometimes and wonder how all of the teachers and staff are going. Straight out of school, I studied Actuarial Science for 6 months and had that 'damn it' moment where I realised that my Maths teacher was right: I wasn't suited to being an actuary at all! He said I didn't have the personality for it but I didn't realise it was actually a compliment until I saw it for myself. Now I love what I do.
Stevie-Jade Turner
Financial Planner
MacKillop graduate 2006