Senior School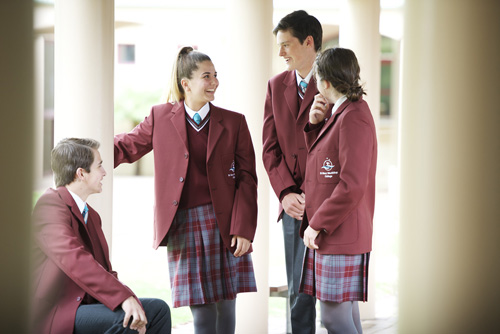 St Mary MacKillop College is a vibrant school where students are inspired to learn and grow throughout their lives. Year 10 students begin focusing their academic, practical and creative pathways towards their unique interests and abilities.
A broad range of ATAR, General and Certificate courses are offered in Senior School, preparing all students to graduate with excellent prospects for university, apprenticeship, career training or employment. Download a copy of the latest course Course Selection Handbook for Years 11 and 12.
ATAR level courses:
Drama Studies
English
Literature
Media Production Analysis
Humanities (Politics, Geography, Economics, History)
Mathematics (Applications, Methods and Specialist)
Religion
Sciences (Chemistry, Physics, Biology, Human Biology, Psychology)
Visual Arts
Italian
Accounting & Finance
Physical Education Studies
Curtin UniReady
This Curtin University in schools program is a rigorous course designed to prepare students for success at a tertiary level and with a focus on the critical thinking process, research skills and university writing. It is delivered as a subject in Year 12 with a mentor teacher who provides one on one support and direct instruction where needed. UniReady provides an alternative pathway to applying for future study at a university. Upon successful completion of the UniReady program students can apply for entry to selected courses at the majority of WA universities. Generally these are courses that require a minimum of a 70 ATAR.
Download a Curtin UniReady Information Booklet to find out more.
A specialised practical pathway is also offered for the Manufacturing industries, with Certificate II in:
Construction Pathways
Engineering Pathways
Furniture Making Pathway
The College also offers Certificate II courses on campus in:
Community Services (Childcare focus)
Music
Dance
Outdoor Recreation & Sport & Recreation
A Certificate IV Preparation for Health and Nursing Studies is offered off campus at the South Regional TAFE in Busselton in Year 11:
Hours
8.45am to 3.20pm
Technology
A BYOD (bring your own device) program aims to provide Senior School students with digital connections between school, community and home.
Wireless access across campus and the College's learning management system (SEQTA) gives students opportunity for 'anytime, anywhere' access to content and teachers.