Primary School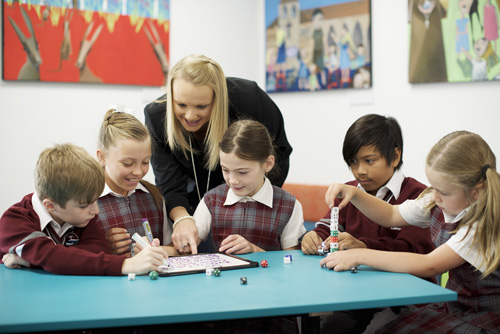 St Mary MacKillop College is a vibrant school where students are inspired to learn and grow throughout their lives.
Students in our Primary School are given a firm foundation in Literacy, Numeracy and Religious Education. These essential learning areas are integrated across the curriculum in History, Geography, Science, Technology and Enterprise.
Hours
8.45am to 3.10pm
Science
Our specialist primary science teacher encourages an early passion for scientific enquiry and discovery in a dedicated science learning space and innovative 'outdoor classroom'.
Language
Students in Year 1 to Year 8 study Italian.
Arts
Visual Arts and Music appreciation/theory classes with passionate, specialist teachers.
Drama, dance and music performances for assemblies, liturgies and other College celebrations throughout the year.
For information on co-curricular opportunities in the Arts, including the Music Instrumental program, see our Arts page.
Sport
Health & Physical Education lessons with a specialist teacher are supplemented by classroom teachers in additional movement/fitness sessions each week.
In a yearly two-week block, students in Pre Primary to Year 6 attend daily swimming lessons with qualified instructors.
For information on co-curricular sports opportunities at the College, see our Sports page.
Technology and Enterprise
Students gain digital learning and research skills through regular IT classes in a modern computer lab.
iPads in every classroom facilitate digital learning, with wireless internet available across the College.
Technology and Enterprise classes familiarise Primary students with design and construction techniques.