SPORTING ACHIEVEMENTS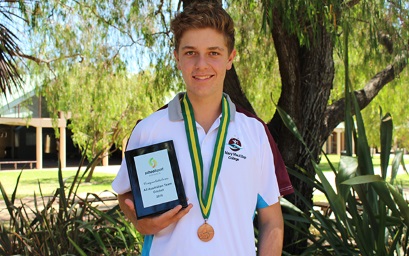 Australian U16 Cricket Squad selection
Year 10 student Connor Smith has earned a spot on the youngest squad selected to represent Australia after performing well in the recent 15 and Under National Championships in Brisbane. He was the competition's fourth top scorer with 210 runs at an average of 35.
Cricket Australia named Connor in the Australia under-16 squad to take on Pakistan next summer in a one-day series in Dubai.
Last year's inaugural squad produced Newcastle batsman Sangha, who advanced through from the 15 and Under National Championships to be selected for the Australia Under-19 squad, touring Dubai and scored a century on youth debut.
CA's National Talent Manager Greg Chappell said the squad was beginning to taste the opportunities that are present as part of the newly revamped Cricket Australia Pathway.
"Selection in this squad and the ensuing tours are just more opportunities for the country's top-performing youth to experience elite level cricket," Chappell said.
The under-16 squad will train at the Bupa National Cricket Centre before competing in the Under 17 National Championships, and will then head to Dubai to take on Pakistan in a limited-over series in December and January.