SPORTS ACHIEVEMENTS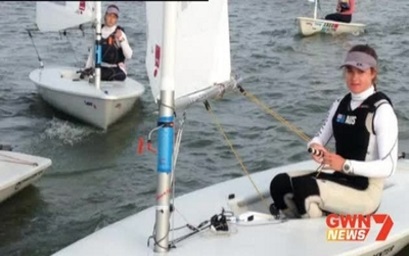 Australian Female Sailor of the Year
Year 11 student Hailey Johnson was awarded the title of 2016 Australian Female Sailor of the Year after her performance in the Australian Youth Championship and other competitions in Melbourne and Sydney during the summer holidays.
Despite a rocky start, Hailey took second overall at the world cup event Sail Melbourne in December and first place in the female division, following it up three days later to compete at Sydney Harbour.
Back in Busselton for Christmas, Johnson returned to Sydney in January to compete over six days in the Australian nationals at Lake Macquarie. She finished ninth overall out of 53 sailors, and won the female division after coming into the last day with a convincing 50 point lead.
Over the last year Johnson has taken sailing to the next level and has been travelling to Perth twice a week for intense coaching with some of the world's best.
Sailing her Olympic class laser, Johnson will compete in the state titles this month before she travels to Germany to compete in the world championship, towards her goal to one day represent Australia at the Olympics.