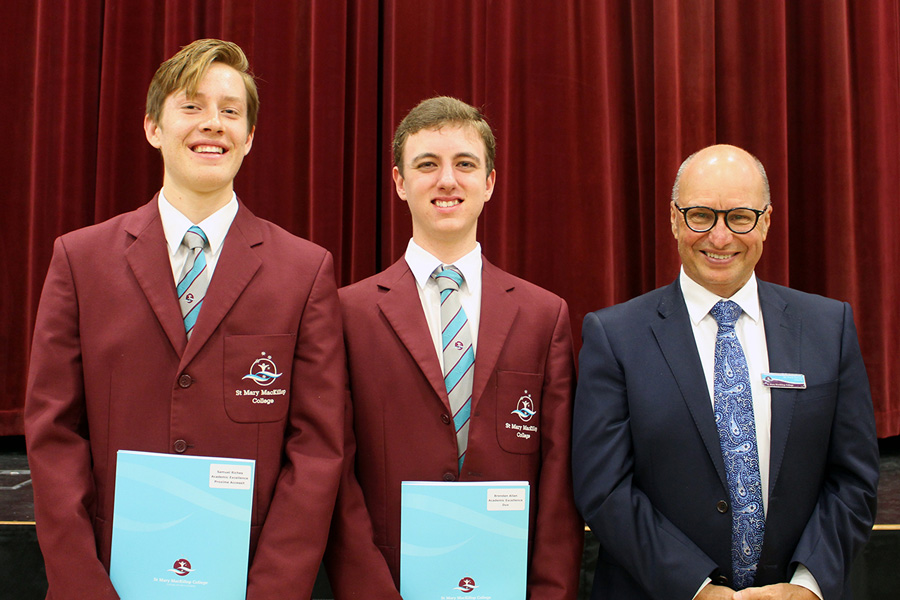 2019 graduates from St Mary MacKillop College once again produced some excellent results, with a 100% VET Achievement and eleven students obtaining an ATAR over 90. With a median ATAR of 83.15, these results position the College as the highest ranked regional school in WA, and 30th overall across the state.
A total of 72 students achieved at least one Certificate II, III or IV – with an impressive 160 VET Certificates awarded to these students since Year 10.
Of our ATAR students, 95.5% received an offer from a public university, with 82% of ATAR students receiving their first preference. Our highest achievers in ATAR were 2019 Dux of the College, Brendan Allan (98.75), and Proxime Accessit, Samuel Riches (98.45).
The following students all achieved an ATAR over 90 - an outstanding result:
Brendan Allen
Samuel Riches
Ethan Douglas
Shayla Durell
Logan Brookes
Joel Anderson
Mika Langley
Beau Haynes
Sebastian Bosich
Patrick Sheehan
Awards for Consistent School Achievement – Certificates of Merit and Distinction
Certificates of Merit and Distinction are awarded to eligible students who show consistently high results in units studied over Years 11 and 12. Points are accrued and Certificates of Merit are awarded to students with 150-189 points and Certificates of Distinction to those with 190-200 points.
Two Certificates of Distinction were awarded to Asha McClurg and Samuel Riches and 16 Certificates of Merit were awarded to Brendan Allan, Joel Anderson, Hannah Armstrong, Logan Brookes, Alastair Bruce, Eva Burkhardt, Grace Chandler, Shayla Durell, Brooke Gibson, Isis Gutteridge, Beige Harris, Aimee Horton, Mika Langley, Hannah Lee-Reynolds, Darcy Lord.
The College was also recognised as a Course Leader in Accounting and Finance, with the highest performing students in this Year 12 ATAR course across the state.
We congratulate all our 2019 graduates on their excellent results, and thank parents, teachers and staff for the support they provided.