Well that's a wrap for our 2020 Swim Carnival and what amazing days they were in their own way. The Year 5-8 Carnival atmosphere was electric with House spirit and competitiveness on display at all times. The Senior Carnival also proved to be a great success with some fearsome performances from our 'dolphins' in the pool, and colourful entertainment to remember. There was plenty to celebrate including two Year 7 and Year 8 records and four Year 12 records.
The involvement of staff, parents and students made both carnivals ones to remember.
After day one of the Carnival McCormack held a strong position, but not before witnessing the lead change at least four times during the day. Kelly made another run for the title on Day Two, but McCormack held strong.
Congratulations to McCormack Houses for winning the 2020 Swimming Carnival. It was fantastic to see all House members' willingness to get competitors into every race. This is a credit to the House Co-ordinators and the House Leaders.
Well done to all Houses…already looking forward to the performances that the Swimming Carnival in 2021 will bring.

St Mary MacKillop College 2020 Individual Year Champions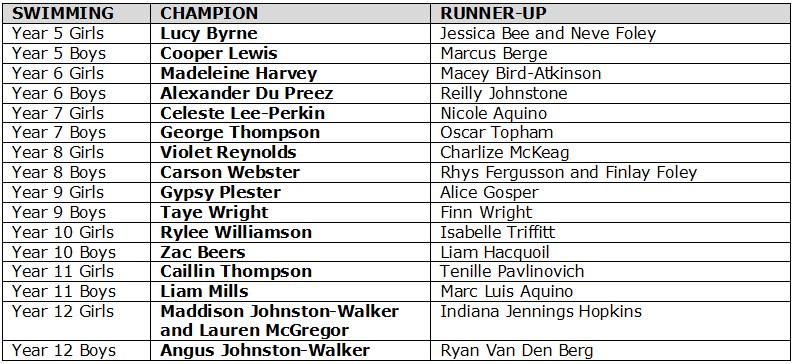 2020 St Mary MacKillop College Swimming Records